HOLY SHIT! ARCTIC MONKEYS ARE AWESOME. I have no idea how many times I have said it but watching them live is effing awesome!! UBERAWESOME ACTUALLY.
Alex Turner's voice is sexy. VERY. He sings well live and actually, in certain songs, he gives it a more eccentric edge! Ah dream come true!! Sheffield town looks like the street of Kuala Lumpur to me. In my opinion, the taxis and buses were inefficient and inconvenient. I was in the 'heart of the city' but it doesn't seem to be like a city to me. But that's maybe I haven't really seen the whole town?
Basically, we grabbed a taxi after walking around the city to the Sheffield FM arena stadium in the evening around 4.30. We arrived in the stadium by 5 and we went for a bite. We asked the gate guards about the timing of the live act and what is the latest we can enter and from which gate. He was really nice and he told us we could enter at about 9 if we like because there is going to be like a "crappy" american band playing for an hour before Arctic monkeys starts. AND OH GOD. THE AMERICAN BAND REALLY SUCKS. I think they're "Angels of death" or something. No offense to people who like them. But seriously like what the guy said , " EVERYONE WANTS TO SEE ARCTIC MONKEYS NOT THEM. YOU CAN COME AT 9" and he was so right. Everyone else entered around 8.30 and by 9, the stadium was jam packed. ( tickets were sold out )
AND HOLY SHIT. ARCTIC MONKEYS IS THE BOMB!
I didn't take many pictures because I recorded some of my favourite songs!! I only managed to record 10 songs because my camera recording is HD and an average of 3 minute clip is about 400 MB. =( BUT the quality is good! I'm trying to upload it to youtube now!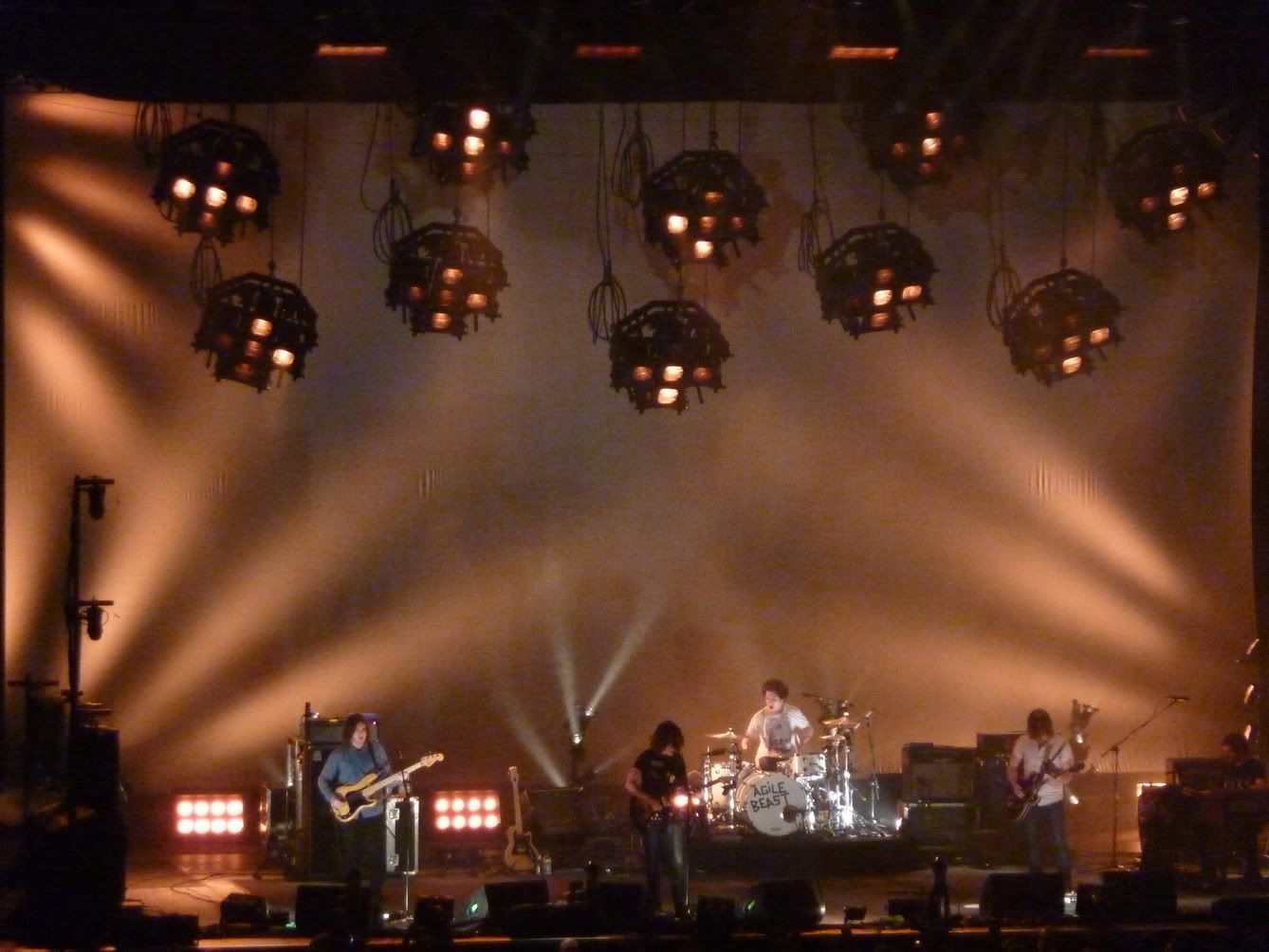 i6.photobucket.com/albums/y206/Demonluvv/P1000692.jpg
---> that link is for the original size. IT's UBER HUGE. and yea, alex's hair is long and Nick's hair is an..... afro? ( OH MY GOD !! THEY HAVE BAD STYLES FOR NOW)
After that, we actually booked a taxi earlier to pick us up at 11 because our train is at 11.50. ( it only takes 10 mins to arrive to the train station but walking will take us forever because there is no proper pedestrian walk ) . We called them again and they said the guy went off duty already. =.='' When we asked them to give us another taxi immediately, they asked us to wait and they didn't call us back. So we tried a few other taxi companies. All said that they've dispatched ALL their taxis to the stadium. Just grab anyone that comes along. OHMYGOD. THEY LIED. When we tried to get a taxi, they kept saying that taxi is not available!
We missed our train and it was the LAST train out of Sheffield to Leeds. We were then, stranded. How sad. Seriously. We thought, nevermind, we can stay and wait in the train station and grab the earliest ticket out of here, but , THE TRAIN STATION IN SHEFFIELD ISN'T 24/7 LIKE THE ONE IN LEEDS. SO ANGRY. Lucky a friend of mine had another friend who studies in University of Sheffield and her place is big enough to house all 4 of us.
We stayed there for a night and we called the taxi 45 minutes before we wanted to leave in the morning. The taxi services are really horrible in Sheffield. Taxis in Leeds comes in 2 - 5 minutes after you call. Apart from the concert, Sheffield did not get on my good side ;(
We got the earliest train ticket this morning which was at 10.30. *sigh* IT WAS SO TIRING. BUT THE CONCERT WAS WORTH IT. ( I SWEAR IT IS)
I'm trying to upload the Brianstorm clip on youtube but it's taking ages. ( the file size is 450 mb) Once it's uploaded, i'll put it up here too!!
WHEEEEEE !! <3
Current Mood:
chipper